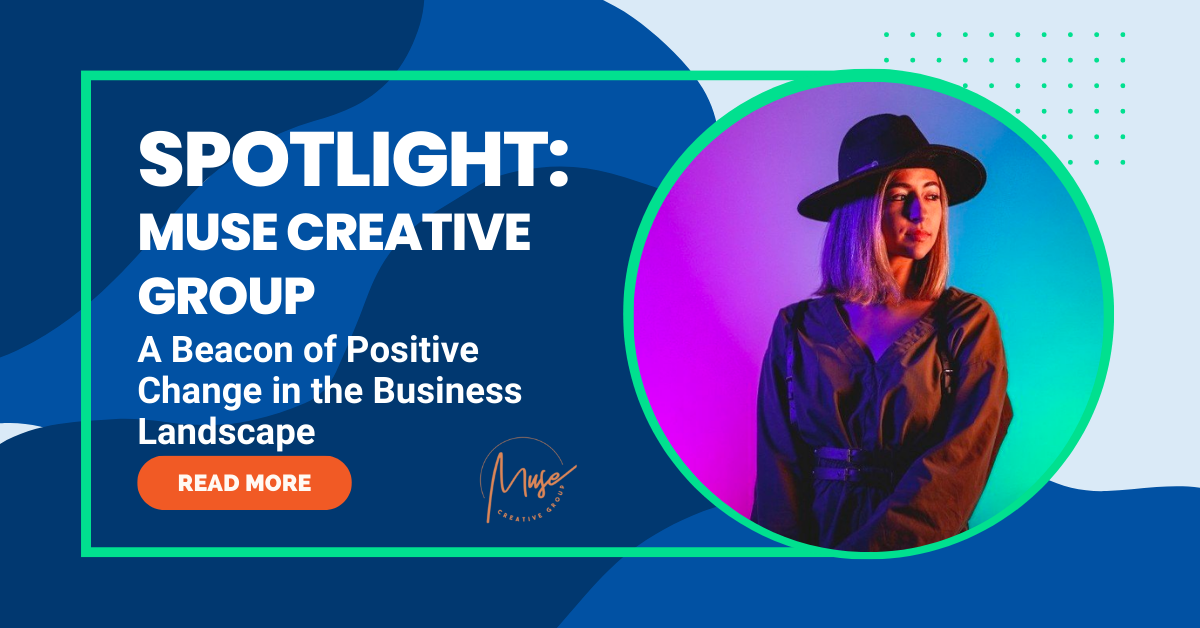 Explore the transformative journey of Muse Creative Group under Gabriella Mutti's leadership, emphasizing innovation, sustainability, and positive change.
Muse Creative Group was founded amidst the reflective pause of 2020 and is a testament to the power of vision and determination. Gabriella Mutti, the heart and soul behind this creative powerhouse, transformed a moment of global uncertainty into an opportunity for positive change.
A Muse Born from Reflection
The inception of Muse Creative Group in May 2020 was no ordinary event. Lost in thought while paddleboarding, Gabriella was struck by "her muse" and realized her marketing prowess could be a tool for transformation in the sectors she cared about most but found overlooked. "The pause that 2020 brought allowed me to reflect on my purpose and career goals," she told me, "I wanted to be more intentional about my work and its impact on the world."

This epiphany led her to create an agency dedicated to progressive organizations, emphasizing community involvement and social good. Muse Creative Group's initiatives, ranging from reducing food waste in restaurants to championing eco-friendly packaging, have set them apart in the business landscape.

While Muse Creative Group has roots in tropical South Florida, its embrace of remote work has painted its canvas with global colors. Gabriella's journey from studying for her Master's degree in Boston to mastering skiing in the Rocky Mountains, coupled with team adventures in Madrid, Buenos Aires, and Caracas, has enriched the company's creative perspective. This geographical diversity has become a cornerstone, fostering diversity in thought and ideas.
A Team Driven by Core Values
With a dynamic team of six full-time members, Muse Creative Group is more than just numbers. Their ethos, centered around innovation, collaboration, passion, and expertise, guides every project. Gabriella has cultivated a culture where team members are encouraged to unleash their creative potential, ensuring that every client experience is seamless and impactful. This culture extends beyond her team of artists and developers and into her extended team members, which include public relations teams, photographers, and videographers.

"From charting strategic roadmaps to conducting market research, we're all about making things happen," says Gabriella. "We believe in turning ideas into action, fostering a culture where growth and innovation thrive."

Muse Creative Group's distinctiveness lies in its commitment to inspiration. As a Latina-owned business, it infuses a unique cultural touch into its endeavors and clients. Gabriella's collaboration with her sister, Antonella Mutti, amplifies this energy, constantly challenging each other to scale new heights. This energy allows them to consistently serve their ten long-term clients while taking on several project-based clients throughout the year.
Holistic Well-being and Personal Insights
Gabriella's role as President and Founder blends leadership and project management, fostering inspiration and collaboration. She believes every brand has a story, and Muse Creative Group's mission is to bring those stories to life through creativity and technology.
Gabriella's vision extends beyond conventional projects. The rebranding of Environmental Learning for Kids (ELK) stands out for its design and transformative impact on young minds. Gabriella's involvement in attending fishing clinics and interacting with students ensured the brand's evolution was rooted in authenticity. She told us that this project deeply reinforced her connection to nature, and witnessing ELK's incredible work with young minds highlighted one of her favorite things about this work: she was a part of a more significant transformation.
Yet, challenges are part and parcel of any journey. For Gabriella, the challenge lay in balancing support for local organizations with the sustainability of her business. The "hungry small business" mentality posed a challenge for Muse Creative Group, not least in balancing the ethics of supporting local or smaller organizations with limited budgets. "While I am dedicated to supporting mission-aligned brands, I also place great importance on fairly compensating my team and investing in their growth and development," Gabriella told us.
However, the rewards, from impactful client projects to the personal growth of team members, have been manifold. For instance, her team was essential to an environmental justice campaign initiative that stopped a potentially harmful desalination plant project in southern California.
Beyond her professional achievements, Gabriella is a beacon of holistic well-being. Her adventures, scaling fourteeners and road-tripping multiple cross-country expeditions, reflect her zest for life. A staunch advocate for self-care, clean eating, and inner connection, she balances professional drive and personal well-being.
Expanding Horizons with Prosal and More
Prosal has been instrumental in Muse Creative Group's growth trajectory. The platform has ushered Gabriella and her team into new territories, allowing them to connect with projects resonating with their core values. Moreover, Gabriella has helped Prosal in more ways than one, designing the trademarked Prosal logo and puffin as well as the Prosal badges you see across respondent profiles.

Under Gabriella Mutti's visionary leadership, Muse Creative Group continues to inspire and drive positive change in the business world. Their story is a beacon for all those who believe in the power of vision, determination, and positive transformation.
Alfredo is the COO and CMO of Prosal. He has nearly 10 years of experience working with nonprofits and foundations, and was the founder of a successful consulting business. He is an avid mountain biker and snowboarder and enjoys anything that takes him outdoors.